Our company has been operating OpenHeart auctions technologies for many gala and fundraising events. We have successfully sold artwork in addition to exhibiting them to these group of collectors and high-net worth individuals. By using this Curator portal, you can use our free services to list your artwork, create its provenance and also use the following free services (QR code, CoA and Exhibition Label).





About Curator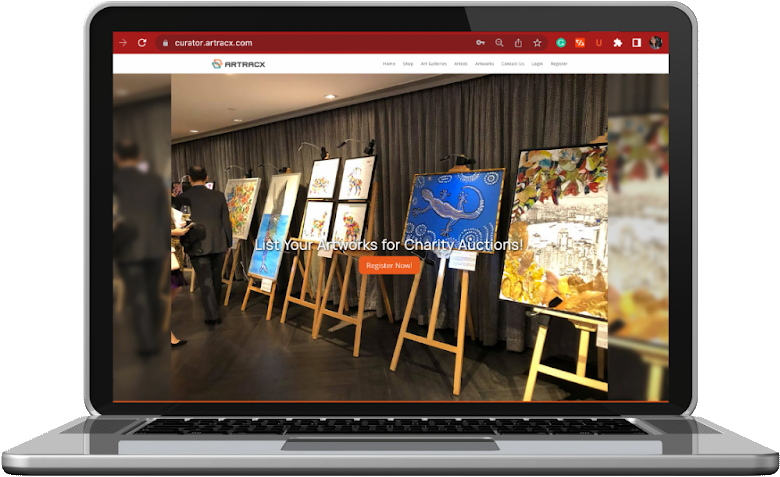 Our platform offers a range of services that will surely help artists, galleries, and collectors. This includes certificate of authenticity, artwork inventory management, art provenance in blockchain, wall label generation, and even art sale at charity auctions.
Contact Us
E-mail:
Facebook:
Instagram:
Address:
9/F Sing Shun Centre, 495 Castle Peak Road, Lai Chi Kok, Hong Kong
About ARTRACX
The ARTRACX platform is a new digital platform that will delight the ecosystem of high net-worth individuals, art collectors, art galleries, artists and charities by offering provenance, transaction advisory, and valuations. Art Group itself will plan to raise a small round to develop its ARTRACX platform to integrate Blockchain, Smart Contract and AI, Communications technologies for tapping art provenance and tokenomics in art marketplace/auctions.
As a project, OpenHeart has created mindshare to many HNW and donors. We directly helped over 400+ charities events and help raised over HK$300M since 2012 at various gala and fundraising events.
With ARTRACX, and our OpenHeart brand equity, we provide full track, trace and trade capability online as well as helping items to be featured at various gala dinners around the world using our OpenHeart system. This help brings new buyers, collectors and finally high net worth individuals to the platform.
This site is for our customers to manage their artworks. To learn more about us, visit our main website ARTRACX.com.